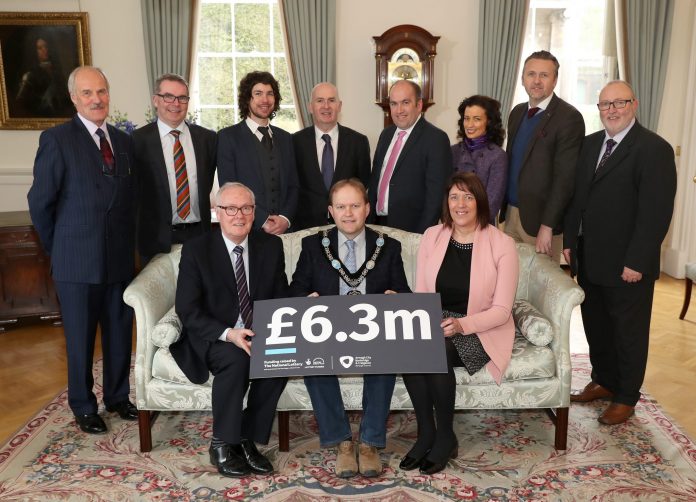 Council and Heritage Lottery Fund put city's built heritage at forefront of major streetscape revamp.
An investment of £6.3 million will transform Armagh's historic city centre as part of an exciting regeneration scheme to bring up to 30 iconic but underused buildings back into full productive use, creating jobs and boosting the local economy.
The scheme was launched today at a special event at The Palace, Armagh.
Led by the Armagh City Townscape Heritage Partnership, with support from Council and the Heritage Lottery Fund, the five-year Armagh City Townscape Heritage project, will be directly geared towards repairing 28 properties and bringing around 5,000 square meters of historic floor space back into sustainable use.
Almost 50 new jobs will be created over the course of the scheme, securing an additional 30 once complete, which will act as a real catalyst for millions of pounds of future investment and growth.
Key buildings in Armagh's protected conservation area, which includes Upper English Street, Scotch Street, Barrack Street and Russell Street, will now be redeveloped as part of the overall heritage-led regeneration project. Several existing businesses in the city will also directly benefit from the scheme.
Lord Mayor of Armagh City, Banbridge and Craigavon Borough, Alderman Gareth Wilson, said:
"Armagh is a city on the rise. With significant economic potential and an already blossoming tourism and hospitality sector, Armagh is renowned for its outstanding built heritage and Georgian past.
"Armagh is already undergoing a transformation and this major project, with sizeable funds committed, will underline the progress being made, helping to restore and enhance this prominent city for future generations to come.
"With the Heritage Lottery Fund, this project will have a powerful effect, not only on the civic pride of the whole area but also on local economic prosperity."
Tony McCusker Northern Ireland Committee member from the Heritage Lottery Fund, added:
"The detailed programme of work, which will see the repair and re-use of buildings in key city locations, will play a crucial role in regenerating the city's commercial core, revitalising its economic heart and opening up its unique heritage for both local people and visitors to enjoy.
"Armagh is a special place and these carefully-planned restorative works will transform its historic built environment, making it an even more attractive place to live, work and visit. We are thrilled that we're at the kick-off stage and excited about the real, positive impact National Lottery player's investment will make."