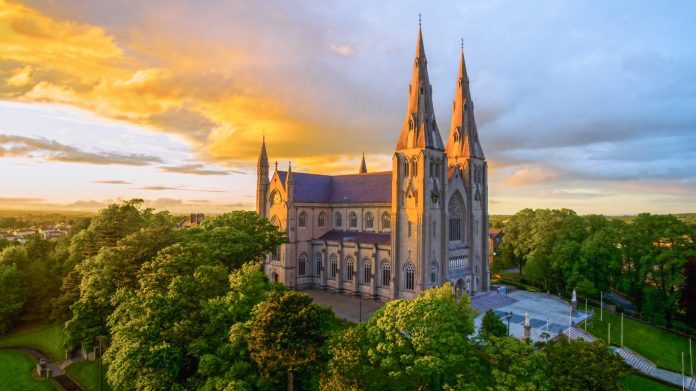 ABC Council embarks on a series of digital initiatives to support trade and industry
Armagh City, Banbridge and Craigavon Borough Council is putting its unique tourism credentials to the fore as part of a major digital programme to keep Armagh's award-winning tourism offer at the forefront of people's minds.
With travel paused for now, the Council is successfully reminding audiences at home and away of the city and region's unrivalled appeal as a must-visit destination when travel resumes and restrictions ease.
It has also embarked on a series of initiatives to support a range of industry partners as the sector prepares to move to recovery mode.
Lord Mayor of Armagh City, Banbridge and Craigavon Borough Council, Cllr Mealla Campbell, said:
"Now recognised around the world for the iconic and historic Armagh City, abundant apple orchards, thriving artisan cider farms, a unique linen heritage, top class arts and visitor attractions and award-winning chefs, restaurants, cafes and bars, Armagh achieved great international tourism and acclaim.
"As we look to the future and the recovery to come, with the continued support and commitment of our industry partners and stakeholders, we want to rebuild that shared success and to deliver sustainable tourism growth when the time is right.
 "Together, we stand ready to meet the challenges and opportunities ahead."
Capitalising on a surge in interest online for updates, stories and visual content for Ireland's oldest city and the wider region, its tourism arm, Visit Armagh, is bringing visitors at home and away on an authentic virtual stroll, supported by a range of industry partners.
Keeping the #UntilWeTravelAgain message firmly alive as part of its plans for wider recovery, the Council has gone full-on digital, sharing videos and imagery from contributors that depict its remarkable history and heritage, arts and culture scene, as well as its beautiful countryside and unique tourism attractions. A series of podcasts are also in the pipeline.
Its new digital programme also features virtual tours and creative online events which feature a range of leading venues including FE McWilliam Gallery and Studio and The Market Place Theatre.
Thousands of visitors from across the world are already joining a legendary Celtic clan from the Navan Centre & Fort, at the online educational classes together with storytelling by fire, recounting some of the most famous legends from the Ulster Cycle.
Thousands of years of local history is also being brought home by one of the oldest museums on the island, Armagh County Museum, as part of an immersive online experience that brings its stunning virtual heritage exhibitions to homes across the world.
For those missing its famous immersive dome shows, Armagh Observatory & Planetarium is now bringing the moon to millions after launching a new interactive, augmented reality app previously used in the exhibition hall for everyone to try at home.
As part of its commitment to support business in sectors across the borough, the Council has also developed a series of bespoke training resources and online courses for tourism partners across a range of areas, including social media and videography.
It has also established new Tourism Trade Forum on its flagship Visit Armagh website, creating a collaborative voice for the local tourism and hospitality to share updates, news, views, and ideas.