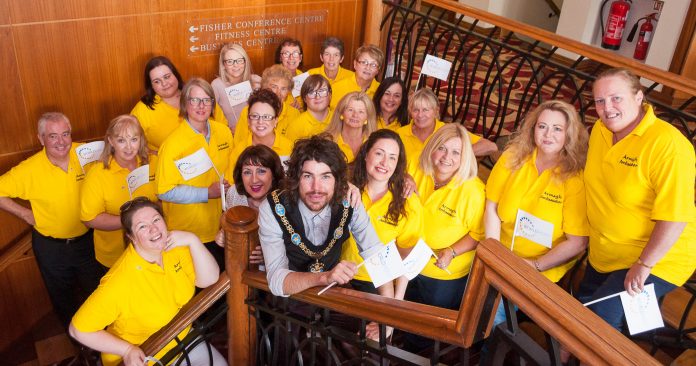 Visitor experiences in Armagh City are set to become even more memorable now that 25 Armagh Ambassadors are WorldHost trained.
The specially customised training course has equipped the ambassadors with the skills necessary to plan itineraries for visitors and ensure that tourists are given the most up-to-date tourism information. Armed with a handy series of tips on promoting a positive message about the city, the ambassadors are even more confident about selling the area's many attractions to visitors.
As well as honing their ambassadorial skills, the 25 enthusiastic volunteers were awarded with an internationally recognised People 1st certificate in partnership with Tourism NI through the WorldHost Programme.
Lord Mayor of Armagh City, Banbridge and Craigavon, Councillor Garath Keating recently met up with the Ambassadors to hear about their work. Particularly impressed by their enthusiasm and pride for their city, he said,
"Growing our international tourism market is a central part of driving economic growth, which is the council's top priority. We are developing an exciting and innovative new Tourism Strategy, and involving our residents in delivering the strategy will be vital to its success."
He added, "The Armagh Ambassadors programme is a practical example of how we can make the most of the goodwill and pride our local people have in the area. The council is delighted to be working with residents to make the borough a welcoming destination for visitors and I know the Ambassadors have been busy spreading the word on all there is to experience in this magnificent city. With a busy programme of Autumn events, including the Food & Cider Festival, Richhill Harvest Fayre, John O'Connor Writing School, William Kennedy Piping Festival and Georgian Day, we're certainly giving the ambassadors plenty to talk about!"
The Armagh Ambassadors, comprising 25 people from the local area who represent all walks of life, earlier this year completed tuition and a series of behind the scenes visits to the city's wide range of attractions over a six week period. Attraction managers gave freely of their time to navigate the Ambassadors from pre-Christian times at the Navan Centre & Fort through the centuries of history to explore outer space at the Armagh Planetarium and Observatory.