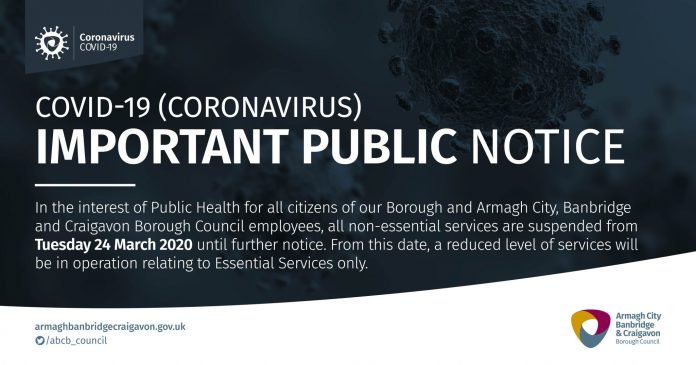 In the interest of Public Health for all citizens of our Borough and Armagh City, Banbridge and Craigavon Borough Council employees, all non-essential services are suspended from Tuesday 24 March 2020 until further notice. From this date, a reduced level of services will be in operation relating to Essential Services only.
Essential Service Delivery
At this time, our primary focus is to ensure that all essential services are maintained as normal, from all current locations. These services include:
Refuse Collection
Recycling Centres
Registration of Births and Deaths
Burial Services
Any changes to these services will be communicated as soon as possible.
Among the main services suspended until further notice are:
Environmental Health
Building Control
Planning Services
Weddings and Civil Partnership ceremonies
Notices of Marriage
During this unprecedented time, we would like to thank you for your support, co-operation and patience. We will endeavour to ensure that normal services will resume as soon as practically possible.
All enquiries are currently redirected via our website. To get in touch please log on to www.armaghbanbridgecraigavon.gov.uk/contactus