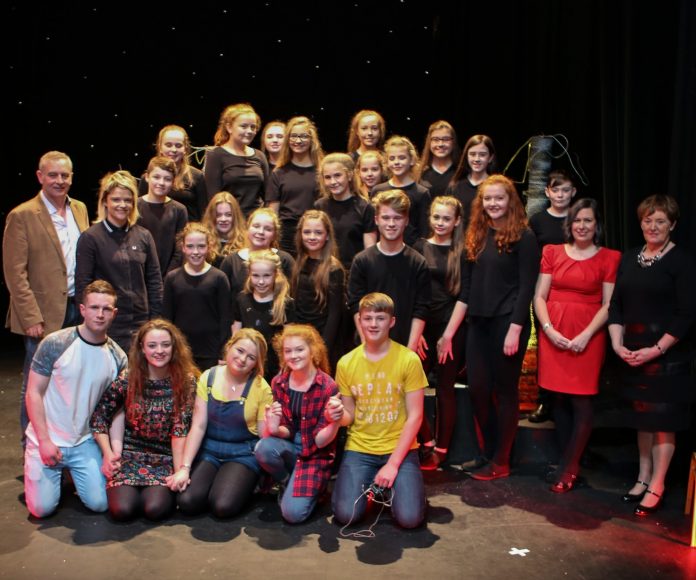 Armagh, Banbridge & Craigavon Policing & Community Safety Partnership (ABC PCSP) recently hosted sell out performances of the thought provoking play 'The Current', which saw nearly 900 people including young people, parents and community groups in attendance.
Performances were held at Newbridge Integrated College, Banbridge, Southern Regional College campuses and Portadown Town Hall – with young people from right across the borough making up the audience. Written by Pamela Cassells School of Performance founder and Portadown local, Pamela Cassells-Totton, The Current tackled hard-hitting issues around anti-social behaviour and underage drinking.
Chair of ABC PCSP, Councillor Máire Cairns, commented: "We were delighted to host 'The Current' as it provides a very realistic and thought provoking interpretation of issues, which we as a PCSP are tackling on a frequent basis with our partners in the PSNI and other community, voluntary & statutory agencies."
With an entire cast made up of young people, the play is centred on five teenagers, Claire, Burnsy, Nicky, Jess and Reece as they finish school for the summer. From a very real perspective, The Current explored the consequences of one of the teenagers encouraging the others to drink alcohol. And as the script progressed the five teenagers start to learn the reality of their behaviours and their lasting impacts.
Community Planning Sergeant, Billy Stewart, commented: "We, in PSNI, are extremely pleased to have been able to be involved in the four performances of 'The Current'. This play has given us an opportunity to engage with young people throughout the District in a unique format. The play demonstrates the situations Police sometimes find young people in. Thankfully, we do not normally see the same final outcome from the actions of the young people but, if having seen this drama, one young person decides not to become involved in this type of risk taking behaviour, the initiative has been worth-while. Congratulations must go to the Pamela Cassells and her cast for making this such a realistic play."
For further information on support available for drunk and alcohol addiction please visit: www.drugsandalcoholni.info/southern/