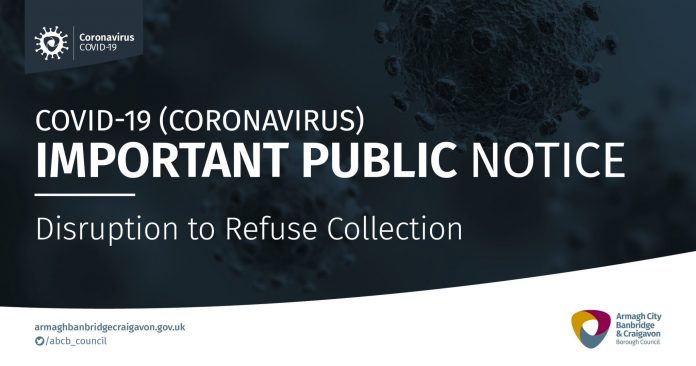 Armagh City, Banbridge and Craigavon Borough Council has advised residents there may be disruption to household refuse collections on Friday 27 March and to leave your bin out for collection the night before (Thursday 26 March).  If your bin is not collected, please leave it out for collection on Saturday 28 March.
Refuse collections are being reviewed daily in light of changing circumstances and to protect the welfare of staff.
Residents in the Armagh area will continue to have their recycle boxes collected as normal.  This service is operated by Bryson Recycling, although this will continue to be monitored daily.
Recycling Centres have closed to the public until further notice in the interests of public safety.  To limit unnecessary social contact and support the key government directive on social distancing while helping to reduce the risk to staff and the general public of the spread of coronavirus.
Householders are being asked to follow important guidance on refuse waste hygiene to protect themselves and employees to prevent spreading the virus by wiping the handle of your wheeled bin or recycle box when presenting for collection.  Always wash your hands after touching your bin or recycle box.
For householders with contaminated waste, which means anyone who has symptoms of Covid-19 should dispose of their waste as follows:
Placed in a plastic rubbish bag and tied when full
The plastic bag should then be placed in a second bin bag and tied
The bag should be put in a suitable and secure place for 72 hours, before putting it into your bin or recycle box for collection. If your general bin or recycle box is being lifted within the next 3 days PLEASE do not place the double bag in your bin or recycle box for collection until the 72 hour period is over.
Waste should be stored safely and kept away from children.
Lord Mayor Councillor Mealla Campbell said: "I want to commend our staff on the frontline, our waste collection workers who are providing an incredible service for our citizens.
 "As a council we are committed to trying to ensure essential services are maintained and we are responding to a fast-changing situation which we are facing operational decisions on a daily basis.
"I ask our residents to please bear with us during this difficult time, you may experience disruption to your household refuse collection but please support our frontline staff and follow the hygiene and contaminated waste guidelines."
For the most up to date information on council services and facility closures visit www.armaghbanbridgecraigavon.gov.uk/coronavirus