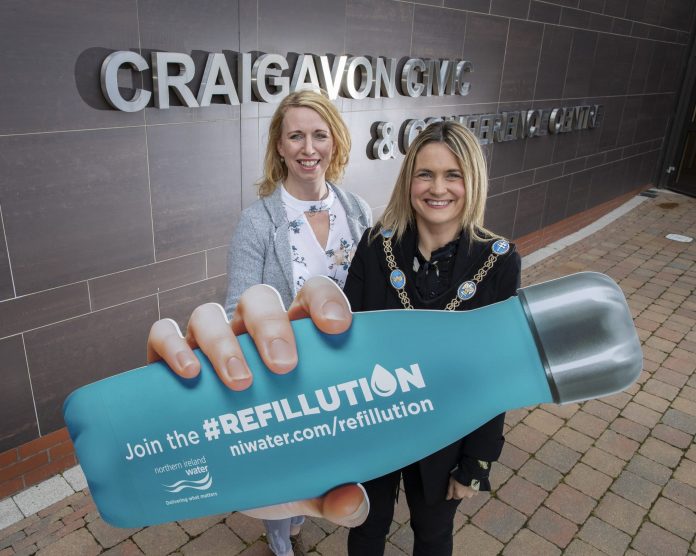 Armagh City, Banbridge and Craigavon Borough Council is delighted to support Northern Ireland Water's new Refillution campaign this Wednesday 19 June 2019.
Coinciding with National Refill Day, the 'Refillution' campaign aims at encouraging everyone to commit to refilling a reusable water bottle with tap water and stop buying single use plastic bottles.
Northern Ireland uses 145 million single use plastic bottles every year. By switching to a reusable bottle, people can help turn the tide in helping to reduce plastic waste. Drinking water is 99% pure and we want everyone to benefit from it.
Supporting the campaign, Lord Mayor of Armagh City, Banbridge and Craigavon, Councillor Mealla Campbell commented,
"With just about every piece of plastic ever made still around somewhere today, the 'Refillution' campaign couldn't be any more important and well-timed. We are wholeheartedly behind this campaign, as we understand everyone has a collective responsibility to reduce our plastic footprint.
"As a council, we are working hard to reduce the impact of single-use plastics used across our services, as well as implementing sustainable procurement, encouraging waste reduction, education and using alternative products.
"There are many small steps we can all take in our everyday lives to reduce our plastic consumption such as carrying reusable water bottles, bringing reusable coffee cups and I would urge everyone to get on board and join the 'Refillution'!"
With drinking water now at the highest quality on record, staying hydrated and reducing plastic waste is a win-win for everyone.
Angela Halpenny, Northern Ireland Water Head of Environmental Regulation says,
"We are delighted ABC Council is supporting our campaign and taking the Refill message right across their Borough. On National Refill day, we welcome all our Councils, agencies and stakeholders to join us, by encouraging everyone to switch to refilling a reusable water bottle from the tap."
With a strong focus on the environment, the water industry is committed to tackling the problems caused by plastics that block up our rivers and drains, and pollute our seas.
You can get involved by using the hashtags #Jointherefillution and #Refillution. Start sharing with your friends now!
For more information about the campaign visit www.niwater.com/refillution/