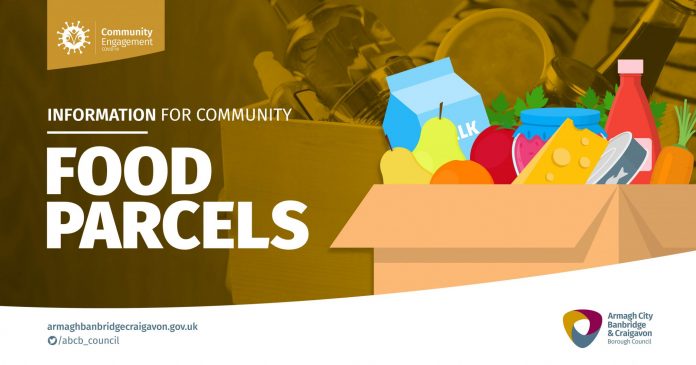 FREE food parcels will be delivered weekly to over 1,000 residents across the Armagh, Banbridge and Craigavon council area to support the most vulnerable in our community.
Food parcels will include items such as tinned food, dried food and soap as well as fresh fruit and bread.
Lord Mayor of Armagh, Banbridge and Craigavon, Councillor Mealla Campbell said,
"Our council has been allocated over 1,000 food parcels per week and already we have commenced distribution.  Each parcel has been designed to provide food for one person for one week.
"In coordinating and distributing the parcels to our local Foodbanks we aim to support the community effort to reach the most vulnerable across the ABC area.
"Our six existing local food bank schemes in Armagh, Brownlow, Portadown, Lurgan, Banbridge and Dromore will provide onward delivery of the food parcels to the two key groups; those who have been issued with shielding letters by their GP and those who are not shielding but in critical need of food.
"One of our main priorities as a council is to protect our residents and particularly those families who need that additional support at this time.  The provision of these food parcels will help those people who are unable to leave the house to shop and those who are struggling to access food.
"Each foodbank has been assigned a council officer who is in daily contact with them to support their efforts and I would like to commend our Community Development team and our staff on the frontline who are working hard to manage this scheme alongside local volunteers.  
"Our officers have a system to monitor demand, manage supply and ensure we support home deliveries at this unprecedented and difficult time.  These food parcels are a vital part of our Covid response and I am pleased our council has mobilised to roll this scheme out with immediate effect and that parcels are already on their way to our residents.
"As a council we will continue to support the most vulnerable in our community and our Community Engagement Hub is continuing to provide information and advice to residents and local Covid response volunteers."
ABC Council Community Development team are working in partnership with the Department of Communities to support local food banks across the Borough to ensure this vital support reaches the most vulnerable in our community.
Support information is available by visiting: www.armaghbanbridgecraigavon.gov.uk/community-engagement