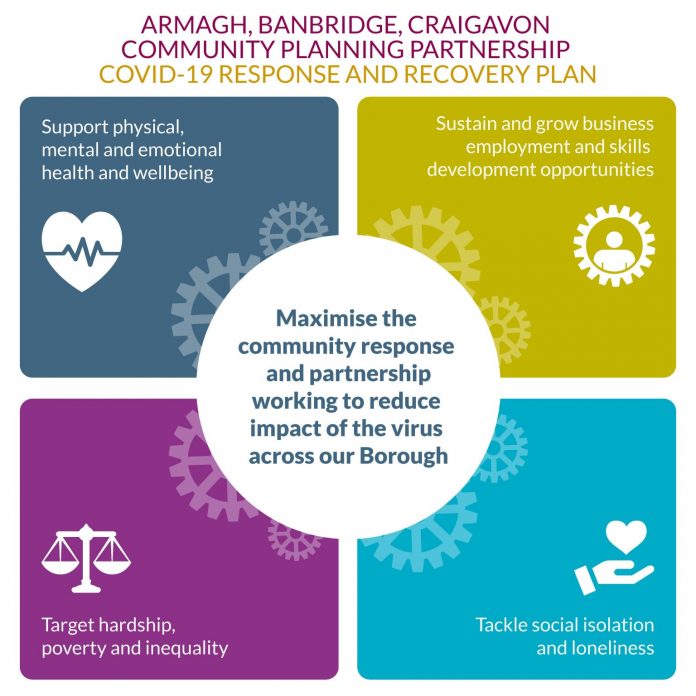 As the impact of the coronavirus pandemic continues to be felt across the borough, the ABC Community Planning Partnership is working on a 12 month COVID-19 Response & Recovery Plan – building on the community action and collaboration that has been seen since the start of the crisis.
This Partnership is made up of over 100 community, statutory and business organisations and the Recovery Plan will support local communities and businesses, with the inclusion of actions to help reduce the impact of the virus and to promote recovery.
The Community & Voluntary Sector Panel and Business Partnership Alliance carried out COVID-19 surveys and focus groups earlier in the year, so this plan will respond to the needs identified and build on the strengths identified in the feedback.
There are short-term actions in place, such as ensuring greater coordination of emergency food and fuel support over the winter, supporting those whose jobs and businesses are affected by the crisis and getting important health messages out to the community.
"Community planning is about working in partnership to make life better for people in the borough," commented the Lord Mayor of Armagh, Banbridge and Craigavon Councillor Kevin Savage.
"This year has been extremely difficult for everyone and there has been a huge need for help and support from both community and business perspectives – and this has been delivered in a tireless manner.  This Recovery Plan will be crucial to build upon as we move into 2021."
Roger Wilson, Chair of the Community Planning Strategic Partnership commented, "As well as the short term actions laid out in the Plan, we are also determined to build better, driving initiatives to address poverty in the longer-term, promote active travel and increase citizen engagement with an innovative Participatory Budgeting pilot that enables residents to commission and deliver wellbeing programmes."
Geraldine Lawless, interim chair of the ABC Community & Voluntary Sector Panel explains how they responded to the crisis and the plan "We all worked incredibly hard to meet the needs of our communities during lockdown and for many of us that meant quickly changing our core activities to provide emergency food support. Our volunteers and staff have worked tirelessly and also need support themselves to process what they experienced earlier in the year. During lockdown we met people who were struggling and we uncovered levels of poverty and mental ill health that we didn't know about before covid. We welcome the opportunuity to work with all partners to meet those needs together."
The Business Partnership Alliance is also involved in the plan. Adrian Farrrell, Chair of Business Partnership Alliance who are also contributing to the plan said, "Local businesses have been hit hard by the pandemic, but have innovated to deliver their goods and services in a Covid safe way – and many have contributed to the communitiy response to make sure that those who needed help received it. We value being involved in a Response & Recovery Plan for the borough and we encourage people to shop local to both protect jobs and livelihoods and to boost our borough."
For more information on the COVID-19 Response & Recovery plan or to get involved please click here